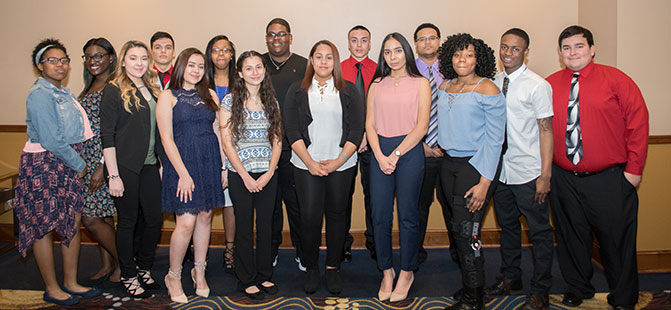 These scholarships are provided to college-bound high school students who are residents of East Chicago and have a minimum 2.0 cumulative GPA (2 year applicants) and 2.5 cumulative GPA (4 year applicants). Students must also be involved in school and community leadership activities and exhibit qualities of high character and integrity.
An applicant MUST meet the following prerequisites at the time of application submission to be eligible for consideration:
A resident of the City of East Chicago.
High School student on track to graduate with high school diploma at the end of the current academic year.
Minimum 2.0 G.P.A (2 year applicants) and 2.5 cumulative G.P.A.(4 year applicants)
Submit two letters of recommendations from individuals (no relatives) that can demonstrate evidence of the student's character, leadership, and integrity. Where appropriate, letterhead must be used, dated and signed.
Submit a minimum 250 word essay: topic explained in the Scholarship Application.
Must submit a copy of your full FAFSA report that lists the Estimated Family Contribution (EFC).
Must submit a copy of your latest high school transcript that shows the applicant's overall G.P.A.
Provide proof of residency which can be one of the following:

A state or government issued photo ID with name and address.
Mail from a college or university with name and address.
High School transcript with an address listed

Be available for a formal interview with the Scholarship Committee if needed.
Please check back in the Fall for our 2021-2022 Scholarship Program
---
2021 High School Recipients
High School Scholarship – College/University
Bishop Noll Institute:
Alejandra Castellanos
Isaac DaSilva
Alondra Guzman
Nina Qureshi
Aclynn Rodgers
Alejandro Rodriguez
Jazmine Rodriguez
Leilani Sanchez
Ariyah Taylor
Cecilia Tinoco
Angel Trejo
East Chicago Central High School:
Ester Arce
Destin Bardney-Streeter
Jasleane Busch
Daisy Castaneda
Andriana Cobb
Esmeralda Desantiago
Yareli Esquivel
Alexandria Gunter
Delilah Gutierrez
Jer'Rae Holden
Joselin Jimenez
Karen Jimenez
Isaak Kidd
Deshanti LaSalle
Cristobal Leon
Angelina Lomeli
Leslie Lopez
Stephanie Lozano
Julissa Lugo
Ashley Martinez-Vazquez
Aaliyah McGuire
Stephanie Ontiveros
Lizbeth Ortiz-Espana
Andrea Perez
Taymon Ray
Linda Samuels
Janet Sanchez-Lopez
Christian Vargas
Cecilia Venegas
Hammond High School:
Shardai Holmes
Morton High School:
Jesus Montes
Munster:
Richard Ballentine
Aaron Perez
Whiting High School:
Adrianna Alvarez
David Cheek
Angelica Murillo
Angelica Rodriguez
High School Scholarship – Trade
Bishop Noll Institute
Francis Ramirez
Tahmia Rollins
East Chicago Central High School
Navion Davis
Jayla Hardaway
Hammond Academy of Science & Technology
Jesenia Cosme
---
Subscribe to Our E-Newsletter
Latest Video
Latest News
Alexis Jimenez
  Congratulations to Alexis Ford, Purdue University Northwest (PNW) class of 2021! Alexis Ford graduated from East Chicago Central High School in 2017 and is a Foundations of East Chicago (FEC) scholarship recipient.   While [...]