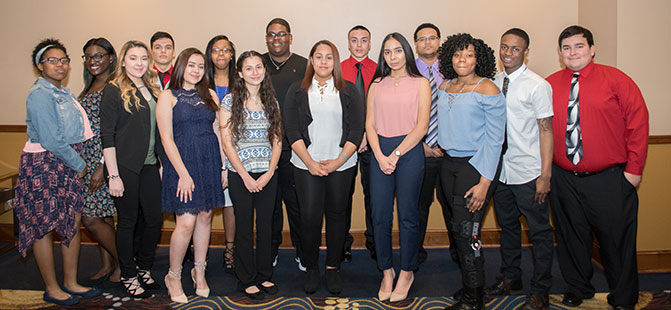 These scholarships are provided to college-bound high school students who are residents of East Chicago and have a minimum 2.50 cumulative GPA. Students must also be involved in school and community leadership activities and exhibit qualities of high character and integrity.
The FEC Scholarship Application deadline has now passed. Please check back in the Fall for our 2020 Scholarship Application.
An applicant MUST meet the following prerequisites at the time of application submission to be eligible for consideration:
The resident of the City of East Chicago.
High School student on track to graduate with high school diploma at the end of the current academic year.
Minimum 2.0 G.P.A (2 year applicants) and 2.5 cumulative G.P.A.(4 year applicants)
Submit two letters of recommendations from individuals (no relatives) that can demonstrate evidence of the student's character, leadership, and integrity. Where appropriate, letterhead must be used, dated and signed.
Community Service Form(s) reflecting 20 hours of community service. Community Service Form 2019
Submit a minimum 250 word essay: topic explained in the Scholarship Application.
A copy of full FAFSA Report.
Official copy of latest high school transcript.
Provide proof of residency which can be one of the following:

A state or government issued photo ID with name and address.
Mail from a college or university with name and address.
High School transcript with an address listed

Be available for a formal interview with the Scholarship Committee if needed.
---
2019 High School Recipients
| | | | |
| --- | --- | --- | --- |
| Abeyta | Sophia | $5,000.00 | ECC |
| Aceves | Eric | $5,000.00 | BNI |
| Aguilar | Daisy | $5,000.00 | ECC |
| Alonso Cortez | Melissa | $10,000.00 | ECC |
| Alvarez | Cresencia | $5,000.00 | ECC |
| Anderson | Savannah | $5,000.00 | ECC |
| Anderson | Kayla 'Marie | $5,000.00 | ECC |
| Arredondo | Nayeli | $10,000.00 | ECC |
| Banuelos | Anthony | $10,000.00 | ECC |
| Barker | Kyari | $7,000.00 | ECC |
| Barrera | Miriam | $5,000.00 | ECC |
| Blackmon | Kalen | $5,000.00 | ECC |
| Blacknell | Deveyon | $5,000.00 | ECC |
| Bonilla | Jasmin | $10,000.00 | ECC |
| Cavazos | Julia | $5,000.00 | BNI |
| Chandler | Lakeya | $5,000.00 | ECC |
| Contreras | Antonio | $7,000.00 | ECC |
| Cornejo | Leslie | $10,000.00 | BNI |
| Cuellar | Christopher | $5,000.00 | Morton |
| Diaz | Sierra | $7,000.00 | ECC |
| Diaz | Victoria | $10,000.00 | ECC |
| Enriquez | Areli | $5,000.00 | ECC |
| Evans | Anise | $5,000.00 | ECC |
| Flores | Pedro | $5,000.00 | ECC |
| Frank | Carrington | $7,000.00 | ECC |
| Garcia | Cecilia | $5,000.00 | ECC |
| Garcia | Kayla | $5,000.00 | ECC |
| Garcia | Roberto | $5,000.00 | Whiting |
| Garcia | Brisa | $5,000.00 | BNI |
| Gillis | Raina | $5,000.00 | BNI |
| Gonzalez | Jeremy | $5,000.00 | Whiting |
| Gordon | Craig | $5,000.00 | Griffith |
| Green | Kayla | $7,000.00 | ECC |
| Guerra | Omar | $5,000.00 | ECC |
| Harris | Makayla | $5,000.00 | ECC |
| Hernandez | Hector | $5,000.00 | ECC |
| Holden | Jaron | $5,000.00 | ECC |
| Hurt | Aleesha | $5,000.00 | Merrillville |
| Isbell | Ihijah | $5,000.00 | ECC |
| Jackson | Tiara | $7,000.00 | ECC |
| Jefferson | Amari | $5,000.00 | ECC |
| Jones | Janiya | $5,000.00 | ECC |
| Kinnie | Lorenzo | $7,000.00 | ECC |
| Loe | Damaris | $7,000.00 | BNI |
| Lopez | Bryan | $5,000.00 | ECC |
| Lord | Teajanae | $5,000.00 | ECC |
| Lozano | Kassandra | $10,000.00 | ECC |
| Madrigal | Maria | $10,000.00 | ECC |
| Maldonado | Jeremy | $10,000.00 | Whiting |
| Marquez | Julian | $5,000.00 | BNI |
| Melgoza | Abisai | $7,000.00 | ECC |
| Moore | Kaniya | $5,000.00 | ECC |
| Moore | Kaliyah | $5,000.00 | ECC |
| Mora | Cindy | $10,000.00 | ECC |
| Mosqueda | Alejandra | $5,000.00 | ECC |
| Munoz | David | $7,000.00 | ECC |
| Murphy | Dakota | $7,000.00 | ECC |
| Navarrete | Andrea | $10,000.00 | ECC |
| Nunez | Alexis | $5,000.00 | ECC |
| Nunn | Cirsten | $5,000.00 | ECC |
| Nwabuko | Aniya | $10,000.00 | BNI |
| Pabey | Rosalynn | $5,000.00 | Whiting |
| Peterson | Armani | $5,000.00 | ECC |
| Pozo | Abigail | $10,000.00 | ECC |
| Ralowski | Zoe | $5,000.00 | Whiting |
| Roldan | Elysa | $10,000.00 | BNI |
| Romo | Enrique | $7,000.00 | ECC |
| Salazar | Daniel | $5,000.00 | BNI |
| Salazar | Catia | $5,000.00 | BNI |
| Salgado | Julian | $5,000.00 | ECC |
| Saulsberry | Charisma | $7,000.00 | ECC |
| Thompson | Samantha | $5,000.00 | ECC |
| Torrano | Alan | $7,000.00 | ECC |
| Warner | Darea | $5,000.00 | Griffith |
| Williams | Louis | $5,000.00 | ECC |
| Williams | Shammon | $5,000.00 | ECC |
| Williams | Demontae | $5,000.00 | ECC |
| Wong | Eliseo | $7,000.00 | ECC |
| Wright | Devon | $10,000.00 | ECC |
---
Subscribe to Our E-Newsletter
Latest Video
Latest News
Alexis Jimenez
        2020 has not been what anyone has expected. For most, this has been a very challenging and scary time. Foundations of East Chicago (FEC) has been doing everything possible to assist [...]