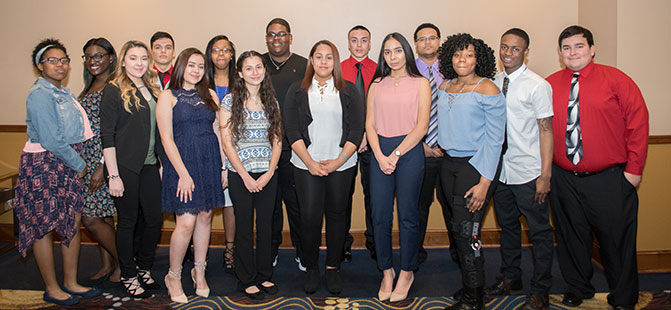 These scholarships are provided to college-bound high school students who are residents of East Chicago and have a minimum 2.0 cumulative GPA (2 year applicants) and 2.5 cumulative GPA (4 year applicants). Students must also be involved in school and community leadership activities and exhibit qualities of high character and integrity.
Deadline to apply: February 19, 2021 | 4 pm (cst)
An applicant MUST meet the following prerequisites at the time of application submission to be eligible for consideration:
A resident of the City of East Chicago.
High School student on track to graduate with high school diploma at the end of the current academic year.
Minimum 2.0 G.P.A (2 year applicants) and 2.5 cumulative G.P.A.(4 year applicants)
Submit two letters of recommendations from individuals (no relatives) that can demonstrate evidence of the student's character, leadership, and integrity. Where appropriate, letterhead must be used, dated and signed.
Submit a minimum 250 word essay: topic explained in the Scholarship Application.
Must submit a copy of your full FAFSA report that lists the Estimated Family Contribution (EFC).
Must submit a copy of your latest high school transcript that shows the applicant's overall G.P.A.
Provide proof of residency which can be one of the following:

A state or government issued photo ID with name and address.
Mail from a college or university with name and address.
High School transcript with an address listed

Be available for a formal interview with the Scholarship Committee if needed.
---
2020 High School Recipients
High School Scholarship – College/University
Bishop Noll Institute:
Agustin Aceves
Troy Acree
Aaron Chance
Monica Cuadra
Aaryanna Grant
Carlos Guzman
Mya Jenkins
Julianna Martinez
Alexandra Ortega
Isabella Perez
Isaiah Rivera
Angel Trevino
Kelly Williams, Jr.
Bria Wilson
East Chicago Central High School:
Gerardo Abonce
Nailea Abonce
Davonya Adams
Angela Alanis
Juan Alonzo-Cortez
Esmeralda Alpizar
Garbriel Alvarez
Sergio Alvarez
Yvonne Arciniega
Talibrianna Becktemba
Franchesca Benitez-Perez
Isiah Cavazos
Anthony Cooper
Lemarie Cooper
Lierra Dickens
Dominic Ford
Ajayla Frierson
Elysia Gandara
Katherine Garfias
Alejandra Godinez
Enyzi Gonzalez
Ezzani Gonzalez
Vanessa Gonzalez
Kelis Herron
Kyla Johnson
Armoni Jones
Caria Jones
Thai Jordan
Deshanti LaSalle
Lily Lopez
Juan Lozano
Baudelio Lozano, Jr.
Jonael Maceira-Cruz
Cesar Marines
Jorge Martinez, Jr.
Lakia McKinney
Kaleeyah Meadows
Deborah Melgoza
Jose Najera
Daniella Navarro
Anaizha Perkins
Oscar Ramos
Jada Reeves
Phylon Riley
Javier Rivera, Jr.
Elianne Samaniego
Alexandro Sandoval
Alyanna Taylor
Latricia Thomas
SaMya Upshaw
Brianna Valenzuela
Kayla Washington
Taylor Williams
Tania Wyatt
Luiz Zavala
Gary Lighthouse Preparatory Academy:
Nicole Acosta
Assata Dailey
Mia Garcia
Victor Ross
Laura Zendejas
Hammond Academy of Science & Technology:
Mia Nava Juan Sepulveda
La Lumiere:
Connor Fife
Morton High School:
Gerardo Cortez
Erick Cuellar
Nixie Padilla
Steel City:
Adreinne Askew
Whiting High School:
Javier Cruz
Nayeli Cruz
Ayani Delgadillo
Sergio Hernandez
Esmeralda Mendez
Aracely Serna
High School Scholarship – Trade
East Chicago Central High School
Cani Battle
Jacobas McBride
Wayne McNair
Edwin Merlos
East Chicago Central High School (The Crossing)
Jocelyn Carpenter
Christian Perez
Whiting High School
Damian Reyes
---
Subscribe to Our E-Newsletter
Latest Video
Latest News
Alexis Jimenez
Did you know that the Foundations of East Chicago scholarship application will be available on November 20, 2020? As that day quickly approaches, help us spread the word to every East Chicago high school senior [...]