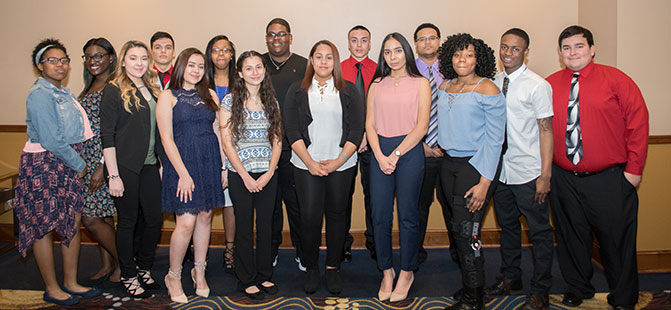 These scholarships are provided to college-bound high school students who are residents of East Chicago and have a minimum 2.0 cumulative G.P.A (trade) or a 2.5 cumulative G.P.A (college). Students must also be involved in school and community leadership activities and exhibit qualities of high character and integrity.
An applicant MUST meet the following prerequisites at the time of application submission to be eligible for consideration:
A resident of the City of East Chicago

Provide two proofs of residency which can be any of the following:

A state or government issued photo ID with name and address.
Mail from a college or university with name and address.
High School transcript with address listed

High School student (junior graduating early or senior) on track to graduate with high school diploma at the end of the current academic year.
Minimum 2.0 G.P.A (2 year applicants) and 2.5 cumulative G.P.A. (4 year applicants)

Must submit a copy of your latest high school transcript that shows the overall G.P.A.

Submit two letters of recommendation from individuals (no relatives or friends) that can demonstrate evidence of the student's character, leadership, and integrity. Where appropriate, letterhead must be used, dated and signed.
Submit an essay (topic explained in the Scholarship Application)
Be available for a formal interview with the Scholarship Committee if needed.
An applicant may be disqualified if information submitted is found to be incorrect or incomplete.
The Scholarship Application will be available October 2, 2023 with a deadline of January 16, 2024 .
The Foundations of East Chicago does not discriminate on the basis of sex, race, color, religion, creed, age, national origin, marital status or parental status, sexual orientation or disability. Applicants may be asked to provide information about their gender and age. This information is used only for statistical purposes. The Foundations of East Chicago does not share or release any data or information with any other organization.
---
2023 High School Recipients
High School Scholarship – College/University
Bishop Noll Institute:
Johnny Alford
Juliana Barrera
Maria Carbajal
Marrissa Casares
Amanda Cooper
Gino Delli Colli
Joseph Elkins
Christian Figueroa
Brianna Gonzalez
Marco Gonzalez
Yessenia Hernandez
Matthew Klocek
Kinnedi Lewis
Adriana Puente
Guillermo Regaldo
Marcus Taylor
Curshaun Walker
Jasmin Williams
East Chicago Central High School:
Victor Ayon
Cierra Battle
Dandre Brown
Jasmin Campos
Arit Cervantes Gomez
Kiana Chandler
Gisela Enriquez-Rivera
Jennifer Gomez
Isidro Guadarrama Rae
Luis Hernandez, Jr.
Kelly Hinton
Brooklyn Hunter
Angel Johnson
Mariah Johnson
Daniel Martinez
Lorely Mora
Julius Murillo
Jayden Orange
Lisette Palacios
Marlen Perez
Arely Prieto
Alexis Ridle
Jacqueline Rios
Saul Rueda
Andrew Salazar
Keaya Smith
Gabrielle Williams
Hammond Academy of Science & Technology:
Krissia Uribe
Illiana Christian:
Danielle Rancifer
Marist High School:
Erica Maya
Oliver P. Morton High School:
Fermin Soriano
Steel City Academy:
Keyonna Shamble
Whiting High School:
Andrea Aguilar
Alexander Acosta
Angelina Lancaster
Anissa Perez
Cynthia Cachu-Nunez
Elena Cheek
Francisco Alanis
Isabella Reyes
Mia Mendoza
Giselle Perez
High School Scholarship – Trade
East Chicago Central High School
Jennifer Gomez
Daniel Martinez
---
Subscribe to Our E-Newsletter
Latest Video
Latest News
Alexis Jimenez
As FEC reflects on another successful scholarship round, awarding 72 students from East Chicago, collectively receiving over $1.9 million in scholarships, we also want to take the time to congratulate our 2023 college grads! Seeing [...]