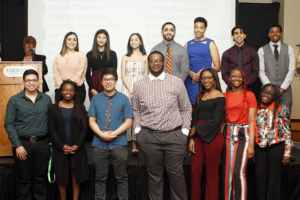 Scholarship, College, and Resource Fair
Due to the rapidly changing situation with COVID-19, our annual Scholarship, College and Career Fair has been postponed. We are working with the School City of East Chicago to reschedule the Fair and hopefully have it take place in the Fall of 2020. We will advise you of the new date as soon as it is confirmed. Please check this page in the Fall for more information.
If you have any questions, please email Tereka Boone at tboone@foundationsec.org.
Subscribe to Our E-Newsletter
Latest Video
Latest News
Alexis Jimenez
        2020 has not been what anyone has expected. For most, this has been a very challenging and scary time. Foundations of East Chicago (FEC) has been doing everything possible to assist [...]