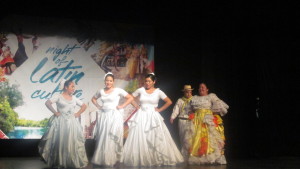 Each year, the Sociedad Cultural Y Civica la Reforma, SCCLR, puts on an event called Night of Latin Culture. The festival is funded by several local organizations including the Foundations of East Chicago and South Shore Arts. The evening features many traditional Latin dishes, an art show and games. However, the highlight of the night is the line-up of live entertainment that grows more impressive by the year. This year, some of the dance performances were as follows:
-Xel-Ha Escuela de Danza: The group from this dance school was made up of several young men and women performing traditional Mexican dances and routines.
-Studio Mangiameli: Chiara Mangiameli, the school's co-founder, has been performing Spanish flamenco song and dance routines at the national and international level for nearly ten years. She herself performed some of these same routines at the 2015 Night of Latin Culture.
-Arte Y Cultura Tuwamari Ballet: This group performed some of the traditional music and ballet dances that represent the culture and history of Ecuador.
-Ballet Folklorico Tierra Colombiana: This nonprofit dance company has represented Colombian culture on the national stage and performed those same routines at Night of Latin Culture.
-Grupo Viva Panama: This group has been performing traditional Panamanian dance routines in Chicagoland since 1996.
-Gingarte Capoeira Chicago: This group not only performed traditional Brazilian dance numbers at the Night of Latin Culture but also demonstrated the African-Brazilian martial art of capoeira.
For more information on all of the performances at 2015 Night of Latin Culture, visit www.scclr.org or search #SCCLRNLC.