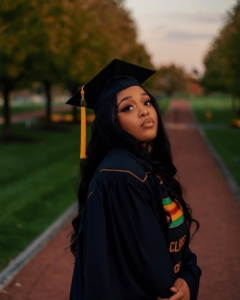 As we start to enjoy the summer days that are upon us, Foundations of East Chicago (FEC) loves to get updates from the hardworking scholarship recipients as they reach their gradation milestone. FEC loves hearing all the success stories of past recipients and sharing with the community what their local grads are up to!
Endeah Huey, a Lighthouse College Prep Academy graduate and a 2017 FEC scholarship recipient graduated from Purdue University with a degree in Neurobiology and Physiology. If that is not impressive enough, Huey has plans to continue with her education and work towards her Masters degree to become a Physician Assistant. Huey comments, "Since this scholarship provided financial assistance towards achieving my educational goals, I decided to take full advantage of this opportunity." She goes on to tell us that she explored all her academic passions in the first two years of her studies before she settled on what she wanted to major in.
Huey credits FEC with alleviating the financial burden that most college students face; "I have met so many people who had to worry about paying for their college expenses as well as performing well in their classes. Because of this scholarship, I was able to complete my program with the advantage of not being concerned about how to cover my college expenses." She thanks the Foundation for this opportunity and would like to share a message with current high school students: "I understand the process of applying to scholarships, I understand that it can be intimidating. But the FEC scholarship and the process for me throughout was everything but intimidating. Applying for this scholarship was completely worth it."
FEC wishes Huey nothing but the best in her future endeavors! We are proud of you and proud of the determination and ambition you have demonstrated for the future generation of East Chicago graduates!