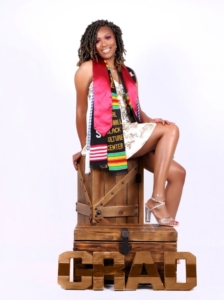 Foundations of East Chicago (FEC) loves hearing back from our scholarship recipients and hearing how the FEC scholarship has contributed to their success! Taje Wilson, a Bishop Noll graduate, received our scholarship in 2017 and applied it to her studies at Indiana University Bloomington (IUB). While at IUB, Wilson majored in Human Resource Management with a minor in Business and she was able to successfully complete her degree in 2021.
Wilson, a resident of East Chicago, said she applied to the FEC scholarship because she wanted to take advantage of every financial opportunity to hep her finance her college degree. She also liked that this scholarship in particular was connected to the city that she calls home. When asked to describe her college experience she said, "My college experience was rocky at times but I was able to grow in many ways. I became more independent and more social. I met many amazing people from all over the world and had opportunities to travel. I held a few different positions and had an internship where I planned an environmental summer camp. I am grateful to have been able to call IU home for 4 years."
Receiving the FEC scholarship helped her to be more selective in the clubs and jobs that she chose to be a part of because she did not have the financial strain of paying for college. Wilson credits the FEC scholarship with allowing her to be able to buy books every semester, pay for housing and meal plans, and have a well-rounded college experience.
In regards to the FEC scholarship, Wilson ended the interview with a message for East Chicago high students: "Apply! There are so many people I've met in college from different cities who are shocked that East Chicago gives out scholarships. You can never apply for too many scholarships!" And to FEC, she says: "THANK YOU SO MUCH! I am very appreciative of the financial blessing that Foundations of East Chicago provided for me. This scholarship made my college experience so much easier and enjoyable."
FEC is very proud of Taje Wilson and is looking forward to seeing all the great things she will accomplish in the future!!