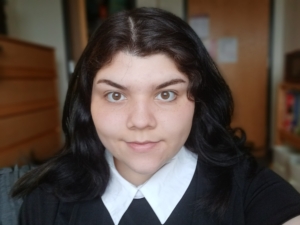 As FEC reflects on another successful scholarship round, awarding 72 students from East Chicago, collectively receiving over $1.9 million in scholarships, we also want to take the time to congratulate our 2023 college grads! Seeing our recipients graduate and pursue their dreams is such a joyous occasion for FEC.
The 2023 grad we want to highlight today is Victoria Diaz, a FEC 2019 scholarship recipient. Diaz is a graduate from East Chicago Central High School who went on to study at Ivy Tech Community College and then finished her degree at Indiana University Bloomington where she majored in psychology.
When we spoke to Diaz she explained how FEC not only helped alleviate the financial burden and made going to school possible to pursue her career while becoming more independent. Diaz had a great college experience and is currently in the process of securing an internship that will propel her to a career in psychology or social work.
We asked Diaz what she would say to current East Chicago students about the FEC scholarship, and she had this to say: "Please apply if they are considering college or higher education as an option after high school. Not only will it help them find a job in a career they are interested in but it can help them explore other options and find themselves as individuals. The world is so big and sometimes without experiencing it for ourselves we don't realize that."
Diaz also had a message of gratitude for FEC: "I would like to thank the team and the sponsors who made it possible for me to receive and use that scholarship, those who guided me year after year in making sure that money would be applied to my bursar bill. I would like to thank those who donated the money that allowed me the opportunity to get a higher education and lightened the struggle of that financial burden. I promise I'll put my degree and knowledge to good use and share it with others. Thank you for all you have done. I know how lucky I am to have received such a generous gift and appreciate it now and always."