Foundations of East Chicago (FEC) prides itself in making a difference within the East Chicago community. One of the ways FEC continues to do that is by awarding East Chicago high school seniors with a scholarship to aid them with their goals beyond 12th grade. Today we want to highlight Kila Dates, who received the FEC scholarship and recently graduated with her Bachelor's degree amidst the pandemic.
Dates, an East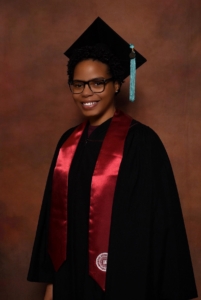 Chicago Central High School graduate, attended Indiana University Bloomington and majored in Healthcare Management and Policy. She applied for the scholarship because she knew the financial burden that going to college would have on her family. FEC helped relieve some of that burden financially and allowed Dates to focus on her studies.
Recently, we asked Dates about her college experience and she had this to say: "College was an eye-opening experience being fresh out of high school and trying to navigate life in a new area on my own. I've had some great opportunities presented to me, met a variety of people, and made some everlasting memories. There were definitely times where I was unsure of myself and if I was choosing the right area of study. The growing pandemic really changed the course of my life since graduating. Back in March of 2020 I was at the point where I was applying to jobs and getting called back for interviews only to miss those opportunities because of the pandemic and life being put on pause. All in all, college was a great experience and I would do it over again if I could. While I really wish I was able to finish college normally instead of virtually and that I was able to attend my college graduation in person with my family, college has still been one of the most meaningful experiences I have had thus far."
It is unfortunate that millions of students, like Dates, were affected by the pandemic and their senior year of college was completely altered. However, our students are resilient and they go on and find success in their own ways. Dates is currently working at a physical therapy office and is also going to continue applying to positions in healthcare. When interviewing Dates, she went on to say that she wants to encourage all high school students to apply for scholarships and she gave a huge "Thank You" to FEC for their financial assistance. Congratulations, Kila Dates!