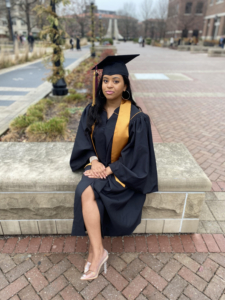 As summer comes to an end and the air is starting to feel crisp, fall is upon us. Every fall, millions of high school seniors are applying for colleges, scholarships, and planning for their life beyond high school. For the past 25 years, Foundations of East Chicago (FEC) has provided scholarship opportunities for East Chicago seniors to assist financially with their college dreams. This fall, FEC's scholarship applications will be available beginning October 1, 2022.
FEC takes pride in assisting East Chicago students obtain a higher education and we love hearing back from our scholars. Yasmeen Muhammad is one of FEC's 2018 scholars who recently graduated and we are proud to share her story! Yasmeen, a graduate from East Chicago Central, applied her scholarship to attend Purdue University. While at Purdue, she received a Bachelor's in Developmental and Family Science with a concentration in Child Development.
When we caught up with Yasmeen she stressed the importance of applying for scholarships, especially the FEC scholarship if you are an East Chicago resident. She was worried that she would not be able to afford college tuition and FEC was able to alleviate those worries. She shared the following with us: "Receiving the FEC scholarship greatly supported me throughout my time in college. I struggled a lot financially, but the FEC scholarship made it so that I did not have to worry so much about the financial aspects. Because of this, I was able to focus more on doing well in school." When FEC hears testimonials such as this one, we beam with pride because our students should be able to focus on their studies instead of finances and the FEC scholarship helps students do just that.
Yasmeen graduated from Purdue and started her Masters program at Boston University in Boston, Massachusetts. She is studying to become a Child Life Specialist in the Child Life and Family-Centered Care Program. When asked if she would like to share a message to high school students, she can't stress enough to EC seniors the importance of applying for scholarships. She said: "You should definitely apply! Receiving this scholarship is an honor and will help you significantly throughout your time in college!"
Yasmeen, FEC is proud of you! Keep doing great things and we wish you the best as you go through your graduate program!