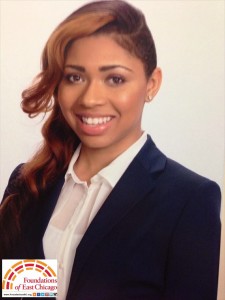 As the cost of college tuition consistently rises year after year, many students are finding it difficult, if not impossible, to afford a college education, let alone one from their dream school. The Foundations of East Chicago, or FEC, a nonprofit organization based in East Chicago, IN, is working to change that for local students through the organization's scholarship program.
Each year, FEC awards hundreds of thousands of dollars in scholarship money to eligible high school students living in the city of East Chicago. Many of those awards are renewable for four years of college as long as the students maintain the required grades.
Adriena Wright is an East Chicago native set to graduate from Butler University, a private institution in Indianapolis, this spring. She will have a Bachelor's of Science degree in biology with a minor in marketing and hopes to make a career in pharmaceutical sales or health care marketing. Wright was awarded the FEC scholarship when she was a senior at East Chicago Central High School.
"Without financial aid, I would not be able to afford college tuition," said Wright.
To receive the FEC scholarship, students must be residents of East Chicago, but they need not attend an East Chicago high school. Scholarship recipients must also maintain a certain GPA in order to continue receiving their scholarship money over the course of four years.
The FEC scholarship dollars can be used for any school-related expenses at any two-year institution, four-year institution or trade school.
"With the aid of the scholarship, I have just enough financial support for tuition, books and housing," said Wright. "Not only does the FEC scholarship make it possible for me to further my education, it also helps me lower my debt after college, since I don't have to take out as many loans."
FEC has been awarding their scholarships since the early 1990s. The number of applicants grows every year and the Foundations works to give awards to as many eligible applicants as possible. In 2015, $181,800 in scholarship money was distributed among 57 East Chicago students.
For more information on FEC and the scholarship program, visit foundationsec.org.