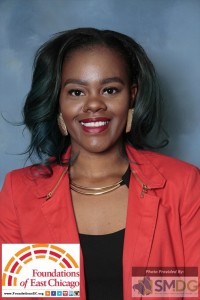 Foundations of East Chicago (FEC) scholarships can help different students in different ways. Some students could use supplemental aid for books and university fees. Some students wish to attend trade school to master a specific skill. Still others dream of attending a large university away from home, like scholarship recipient Destinee Parker.
Destinee is a sophomore attending Tennessee State University while pursuing a degree in business administration. She is an East Chicago native who attended high school at Thea Bowman Leadership Academy. The type of scholarship that she is receiving from FEC is the nontraditional scholarship, which she heard about from members of the East Chicago community.
The FEC nontraditional scholarships are awarded to individuals who have already graduated from high school, but wish to pursue additional college education. These scholarships are awarded on a yearly basis, so they are not renewable. However, if recipients of the nontraditional scholarships remain in good academic standing, they may re-apply for the scholarship the following year.
Destinee credits the FEC scholarship with helping her attain her educational goals.
"As many may know, out-of-state tuition is expensive," said Destinee. "Receiving this scholarship has taken a burden off my family's shoulders."
At Tennessee State, Destinee is also a member of a business fraternity and hopes to take a study abroad trip to Paris in the near future; experiences that she may not have had without receiving the FEC scholarship to attend school.
"In my second year of college, I'll enjoy my time at school and not stress about whether or not I can afford to come back next semester," said Destinee.
For more information on FEC scholarship recipients, visit foundationsec.org.