Congratulations to Alexis Ford, Purdue University Northwest (PNW) class of 2021! Alexis Ford graduated from East Chicago Central High School in 2017 and is a Foundations of East Chicago (FEC) scholarship recipient.
While at P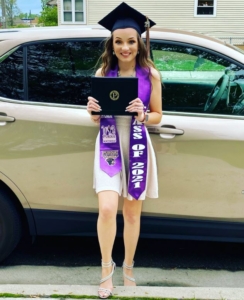 NW, Ford majored in Human Resource Management and minored in accounting. Ford recalls, "College was a time of growth, professionally and personally. I was heavily involved in student activities and even served on some of the boards. I learned that I am a leader and I love to manage people."
Ford applied her scholarship to assist her with covering the costs of housing which alleviated the financial burden, most college students have. She credits FEC with allowing her to have a well-rounded college experience. "Without the help of the FEC scholarship, I would not have been able to live in the dorms and get the full college experience. Because I did not commute, I felt that it was easier to get involved and to feel a part of something." Ford goes on to thank FEC for the scholarship and for changing the trajectory of her college experience.
She encourages all East Chicago students to apply for the FEC scholarship and all other scholarships available. FEC looks forward to keeping up with Ms. Ford and all her future accomplishments!