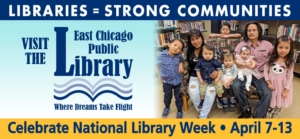 Foundations of East Chicago (FEC) has been providing hundreds of thousands of grant dollars to local East Chicago organizations for more than 20 years. These grants dollars are to be used to enrich and grow the community through programming and services. The East Chicago Public Library (ECPL) has been a recipient of FEC grant funds and have done an awesome job at providing East Chicago residents with great resources and cultural opportunities. In March 2018, the ECPL received a grant from FEC for a program called "The World at Your Fingertips." This program was comprised of special cultural events which included celebrations for Black History Month, National Library Week, Hispanic Heritage Month, Christmas and more.
For the past year the grant that FEC provided allowed East Chicago residents an opportunity to experience cultural events in their very own neighborhood! The library did a great job of combining fun experiences with educational ones to ensure that residents not only had a good time, but learned something new as well. Programming such as Adult Coloring, Mommy and Me Draw, Knitting and Crocheting, Puerto Rican and Hispanic Heritage Trivia night, and a Poetry Slam are just a few of the hundreds of programs the library puts on throughout the year. FEC supports the mission of the ECPL and is happy to be able to partner with them to continue their good work in our community!
As the library gears up to celebrate National Library Week you should stop by and take advantage of these wonderful opportunities. If you have any questions about these programs or the many more resources that the East Chicago Public Library provides, please give them a call at 219-397-2453 or visit their very active Facebook page @ECPLibrary.