Think of a child, and all that he/she needs to learn to be a healthy, positive and intelligent adult. This is not an easy feat, especially if the child is in an environment that does not promote these necessary qualities.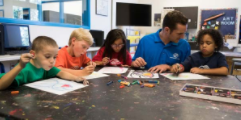 Photo courtesy of Boys & Girls Club of NWI
Fortunately, the Boys & Girls Club of NWI has been there to help these children enrich their lives with a variety of programs providing them with vision, leadership and the guidance needed to guarantee growth and well-being for their future.
The Club has focused additional efforts on helping children and teens achieve in three priority outcome areas of Academic Success, Good Character and Citizenship and Healthy Lifestyles. It's difficult to complete any aspect of these areas without direct program funding and supportive partnership. That's why the Foundations of East Chicago (FEC) has partnered with them to help bring valuable programming to the youth of East Chicago.
Many members of the Club were able to show growth in developmental areas as they were improving leadership skills, gaining opportunities for planning, increasing decision-making skills, acquiring mentors and contributing to the Club and community as a whole.
Last summer, the Club (with the support of FEC) held a 10-week program called CAMP Tomorrow. Children were exposed to a healthier lifestyle by engaging in fun, team-based learning, abstention programs, healthy eating classes and physical activities that promote exercise and improved decision making. It was a positive and safe place for members to interact in productive programs that kept many of them off the streets. The Club was able to offer 30 field trips in 40 days.
To learn more about The Boys & Girls Club of NWI, go to foundationsec.org.