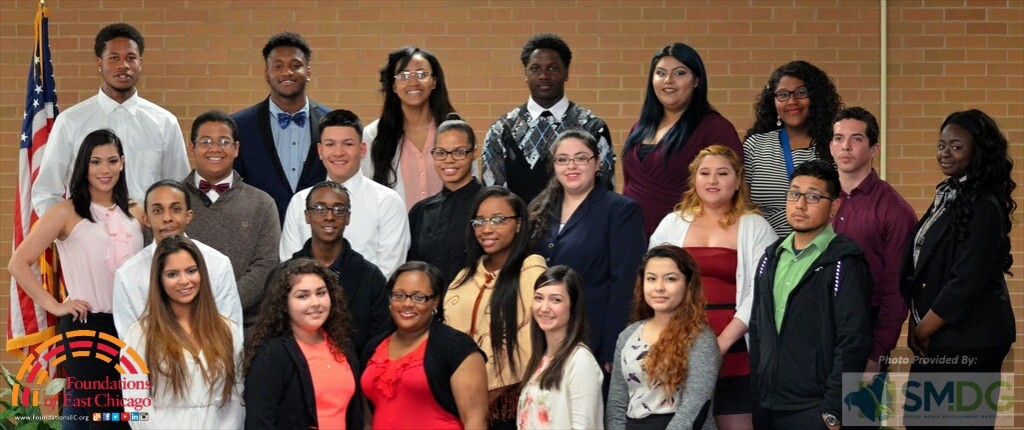 On Monday night, 55 high school students from East Chicago, Ind. were awarded four and two year renewable college scholarships valued over $700,000 by the Foundations of East Chicago (FEC). The scholarships were awarded at the organization's annual Scholarship Awards Reception held at East Chicago's Ivy Tech Community College.
This group was FEC's 18th class of scholarship recipients and was the largest yet. Every student who applied for a scholarship this year was awarded one. The awards varied in amount and ranged from $2,000 to $5,500. The scholarships are renewable for up to four years, however, the students must keep their grades up in order to continue receiving the awards.
FEC scholarships are awarded to students with a grade point average of 2.5 or higher who live in the city of East Chicago, though recipients do not have to be attending an East Chicago high school. They are free to use the scholarship to attend any college, university or trade school that they choose and may select any program of study.
Juan Medina, a recipient of a $3,500 FEC scholarship, is one example of this. He will be graduating from Lighthouse College Preparatory Academy in Gary, Ind. this spring and has plans to attend Purdue University Northwest-Calumet campus in the fall. Medina says he will work on a degree in business while at Purdue so he can get a job in the business aspect of video-gaming, which is his true passion.
"This feels amazing," said Medina of receiving the scholarship. "I look forward to using this to accomplish more in the future."
Another scholarship recipient, Nykeyia Simmons from East Chicago Central High School, says she will be using the money that the scholarship helps her save on tuition at Indiana University-Bloomington to pay for an off-campus apartment for herself and her two-year-old daughter, who will be making the move with her.
"I hope that me pursuing my dreams and not giving up will inspire her to do that same," Simmons says of her daughter.
Simmons is planning to major in accounting at Indiana University partially because she wants an office job that will allow her to spend time with her daughter and instill in her the value of an education.
"When I graduate from college, I will be the first person in my family to have a degree," said Simmons. "So that makes it pretty special, too."
Paola Navarrete, another scholarship recipient from East Chicago Central, also uses her family as her motivation for achieving future success. She is applying her scholarship to the biology program at Loyola University in Chicago before she goes to work in the field of pediatric medicine.
"I have always had a deep connection with my younger sisters which I think is what led me to choose pediatrics," said Navarrete.
Other high schools represented by scholarship recipients were Bishop Noll Institute, Hammond Academy of Science and Technology, Morton High School in Hammond, Thea Bowman Leadership Academy in Gary and Whiting High School in Whiting, Ind.
In addition to the high school scholarships, FEC awarded 16 Non-Traditional Scholarships in the amount of $2,000 each to individuals who graduated high school more than two years ago and are now deciding to go to college.
The keynote speakers for the event were: Manuel Mendoza, Management Development at McMaster-Carr, a 2010 FEC Scholarship Recipient, DeeEta Wright, Principal at Block Middle School, and Christ White, Publisher from the Northwest Indiana Times Newspaper.
After the program, a small reception was held for scholarship recipients and their families. Many families took this time to take pictures of their students with their certificates.
Since 1998, FEC has awarded over $6,000,000 in scholarships to residents of East Chicago. The organization hopes that by investing in these students and helping them follow their dreams, the students will, in some way, come back and reinvest their talents in the city of East Chicago.
For more information on FEC's scholarship program, visit foundationsec.org.