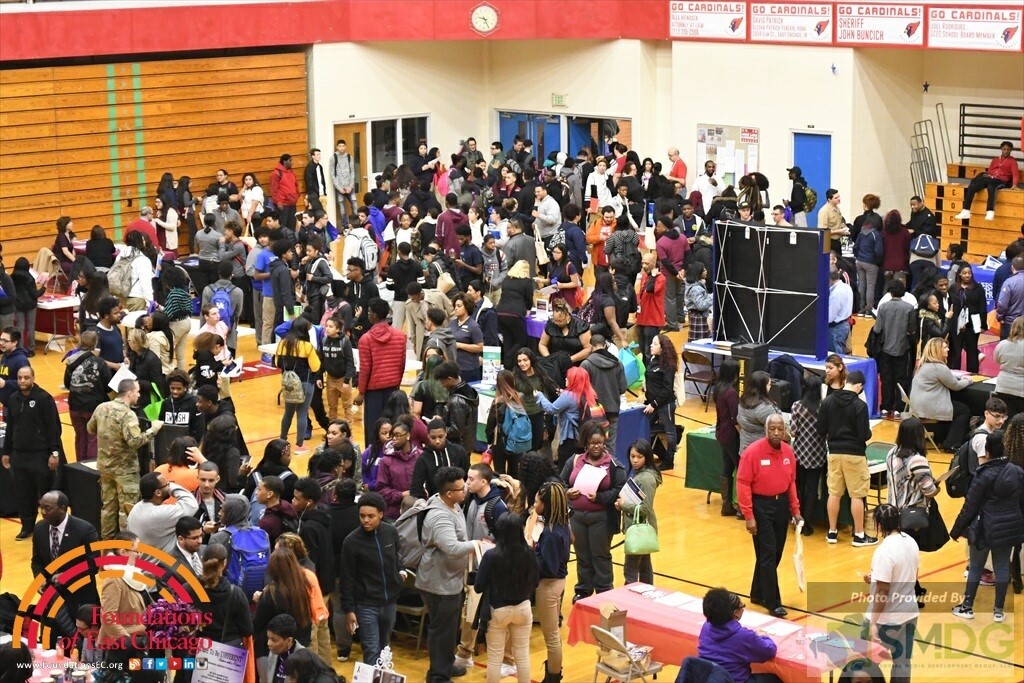 On Friday, Jan. 20, the Foundations of East Chicago (FEC) partnered with the School City of East Chicago to host their first annual Scholarship, College and Career Resource Fair. The event was held in the East Chicago Central High School gymnasium.
Over 50 vendors representing local colleges, universities, companies and scholarship providers were on-site to speak with high school students about the various options they will have after graduation.
The event was open to all high school juniors and seniors free of charge. Approximately 1,200 students from nine Northwest Indiana schools attended the fair with their guidance counsellors to learn about what may be awaiting them when they finish their high school education.
"There are so many job opportunities that students don't even know exist that we want to expose them to," said Dr. Paige McNulty, Superintendent of the School City of East Chicago.
The students were happy to take advantage of all the fair offered and to start thinking about the next step in their lives. Many walked the gymnasium with stacks of brochures and pamphlets containing information to help them make their next big decision.
"I chose to come to the fair because I like being ahead of the game," said Isaiah Messiah Jones, an East Chicago resident who is currently in his junior year at Bishop Noll Institute. "I always like thinking about my future."
Jones, who hopes to obtain a degree in pharmaceutical sciences from Purdue University, was able to speak with several representatives from the Purdue system at the event. Meanwhile, Ta'Kara Jackson, an East Chicago resident and a junior at East Chicago Central, spoke to representatives from the Indiana Army National Guard about her plans to join the service after high school.
"This fair allowed students from all over Northwest Indiana to network with universities, scholarship providers, as well as different community resources," explained FEC Educational Program Director Tereka Boone.
The FEC and School City of East Chicago's fair truly had something for every student, regardless of their plans for the future.
Ashley Andrade, a resident of Whiting and a junior at Whiting High School, has hopes of attending Indiana University – Purdue University at Indianapolis (IUPUI) to study biology before going on to medical school to become a pediatrician. Although Andrade may have a well-laid plan, college is expensive and she decided to see what kind of financial assistance the fair had to offer.
"I've actually learned a lot about some scholarships that I didn't even know I had an opportunity to sign up for," said Andrade.
Not only did this event benefit the students in attendance, it also gave local universities and members of the business community the chance to get to know potential students and employees.
"There are great demands out there in the labor force for individuals with degrees in technology and this was a good opportunity for us to connect with students," said Dr. Keyuan Jiang, professor and Department Head for the Department of Computer Information Technology and Graphics at Purdue University Northwest.
FEC stated that there are plans to continue to grow the fair in the future. It will become an extension of the already widely successful FEC scholarship program and will provide more educational and career opportunities for students each year.
"We decided it was time to do a little more and to give our students the resources they need to make better choices," said FEC Executive Director Rosa Peña.
To learn more about this year's fair and other FEC events, visit www.FoundationsEC.org.