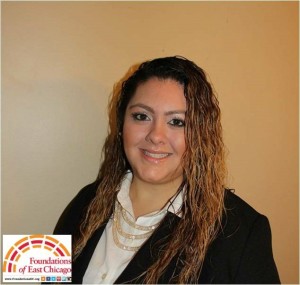 The mission of Foundations of East Chicago (FEC) is to help the community of East Chicago as well as the people in it. This is accomplished through community programs, educational opportunities and, most notably, a scholarships program.
The FEC scholarship program makes it possible for intelligent, driven students living in East Chicago to afford a college education and has been doing so since the early 1990s.
One individual, who received an FEC scholarship in 2004, was able to attend two different post-secondary institutions and end up in the type of job of which she had always dreamed.
Susana Mota spent her entire childhood in East Chicago. She was a senior at East Chicago Central High School when she received her FEC scholarship.
"It was helpful to know that I was supported by my community," said Susana. "It was important to me that an organization from my community knew the students' futures were important."
It was this sense of community that she experienced growing up in East Chicago that helped Susana decide what she wanted to do with her life.
"Regardless of what organization it was, my plan was always to be with an organization that made an impact on children, families and communities," said Susana.
After receiving the FEC scholarship, Susana attended school at Indiana University in Bloomington where she obtained her Bachelor's degree in human development and family studies.
"I had the opportunity to give back to the community at Indiana University – Bloomington as I knew that was very important," said Susana.
After using her scholarship at IU, Susana went on to obtain a Master's degree in early childhood education from Northern Arizona University. She now works as director for the First Steps program, helping families of infants and toddlers with special needs.
Growing up with support from community organizations like FEC inspired Susana to also dedicate her life to helping others.
"I can truly appreciate the work FEC does with a community that is important to me," said Susana.
For more information on FEC scholarship recipients like Susana, visit foundationsec.org.