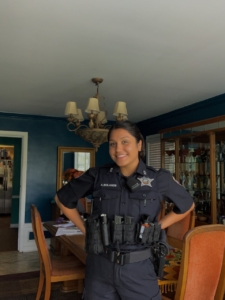 To say that this past year and a half has been challenging and unprecedented, would be an understatement. However, Foundations of East Chicago (FEC) did not stop its efforts in putting grants and scholarships out into the community at a time when it was needed most. FEC's scholarship program, especially, is one that gives the youth in our community a chance to advance onto higher education by lessening the financial burden it can cause on families. Whenever we hear back from one of our scholarship recipients and they recount how much the FEC scholarship assisted them throughout their college career; it brings it all full circle.
We recently heard back from Alejandra Bolaños, who not only was one of our scholarship recipients, but has recently sworn in as an East Chicago Police Officer. Bolaños, an East Chicago native, graduated from Bishop Noll Institute and received the FEC scholarship from 2015-2019. Bolaños attended Prairie State College and then went on to receive her bachelor's degree from Purdue University Northwest.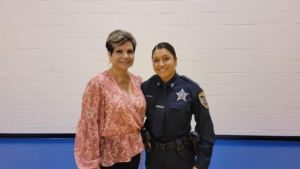 When asking Bolaños why she applied to the FEC scholarship, she had this to say: "I applied for the FEC scholarship because I knew it would help me achieve my long-term goals. Being a recipient of this scholarship helped me pay for my college textbooks and my classes. The day I found out I was going to be awarded this scholarship was a proud moment in my life. Both of my parents, Debra and Salvador, constantly worked hard to be able to afford a great high school and college education for my siblings and I. I was lucky enough to receive a full ride scholarship to play NCJAA D2 soccer at Prairie State College for two years. Because I received the FEC scholarship, I was able to pay off the cost of my textbooks and other fees for school. When I returned to Purdue University Northwest to finish my last two years of my undergrad, the FEC scholarship helped me pay for the remainder of my classes. I am extremely grateful to have been a recipient of this scholarship."
Bolaños goes on to say that the FEC scholarship has impacted her life greatly and has allowed her to graduate without debt, in combination with her soccer scholarship. After graduating from PNW, she made the decision to enter the Criminal Justice Masters Program. She is a hard worker who is now giving back to her community by serving in law enforcement. The East Chicago Police Department hired her and she graduated from the Indiana Law Enforcement Academy on April 23, 2021.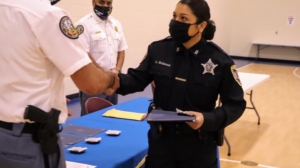 She has great advice to current high school students: "…it's ok if your career path changes a few times. What matters most is that you're doing what you love and you feel it in your heart. Don't ever forget where you come from either. Always follow your dreams and set goals for yourself!"