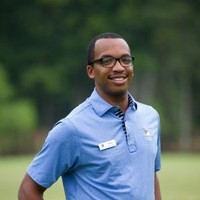 Did you know that the Foundations of East Chicago scholarship application will be available on November 20, 2020? As that day quickly approaches, help us spread the word to every East Chicago high school senior so that they may have the opportunity to receive a scholarship to pay for college!
Steven Outlaw, a graduate from East Chicago Central High School, was a 2003 Foundations of East Chicago scholarship recipient. Outlaw applied his scholarship to attend Georgetown College and majored in Political Science with a minor in Psychology. Like most of our graduates, Outlaw applied for the scholarship to alleviate the financial burden that a college education can pose. He credits the scholarship with helping make his college dreams a reality.
When we caught up with him and asked about his college experience, Outlaw says, "My experience was beyond worthwhile, as I attended a private Baptist College, that was extremely diverse. It was a dose of real world I didn't experience growing up in East Chicago. Balancing being a student athlete, along with other extracurricular activities, was a challenge, but rewarding experience, that prepared me for life post-grad." Outlaw has graduated and is now the Head Golf Professional with Troon Golf at Wickenburg Rand Golf & Social Club. The one message he stresses to any future East Chicago graduate is to APPLY, APPLY APPLY to not only the FEC scholarship but to any resource that will help get them through their college years.
Foundations of East Chicago loves hearing back from our scholars and hearing about their experiences during and after college. We truly believe in each and every one of our East Chicago students and want to help them go on and achieve their dreams. As we prepare for another scholarship round, FEC is working hard to ensure all students who qualify apply for this great opportunity! Make sure to visit https://foundationsec.org/scholarships/ for information on our scholarships, pertinent information, and the application!