You may know Goodwill as retail stores in your community; not only can you donate your clothes and other items but you can shop there as well.
However, Goodwill is more than that. They are committed to helping the community flourish, and the way they achieve this is by building a better workforce. This begins with well-trained and more educated workers.
That's why Goodwill LEADS, Inc. (Learn, Educate, Advance and Develop Students) began The Excel Center, dedicated to helping adults further their education.
The Excel Center is a free, Indiana public high school where adults can earn their diploma – not a GED. The school is designed to offer face-to-face instruction with a flexible schedule to fit the students' needs. Available classes include English, math, science and social studies to complete the credits needed for the Indiana Core 40 diploma (the state's standard high school diploma). The student chooses the number of classes to take each term and the time of day; classes meet Monday-Thursday in the morning, afternoon and evening.
The Excel Center also pairs each student with a life coach. Together, the student and life coach work through obstacles that hinder achieving goals – possibly the same obstacles that prevented the student from graduating high school in the first place. The structure of The Excel Center was designed to make sure each student succeeds in obtaining a diploma. They even offer free onsite childcare, free tutoring and free city bus passes (must qualify).
Earning a high school diploma opens doors to better jobs, higher wages and possibly most importantly, a sense of accomplishment and satisfaction. All of this leads to a better workforce and a stronger community.
Go to The Excel Center to learn more about how you can earn your high school diploma!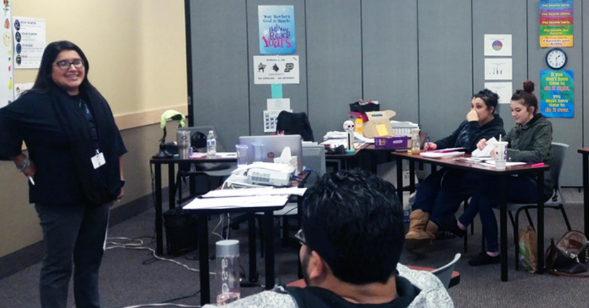 Image Source: ExcelCenterHs.org