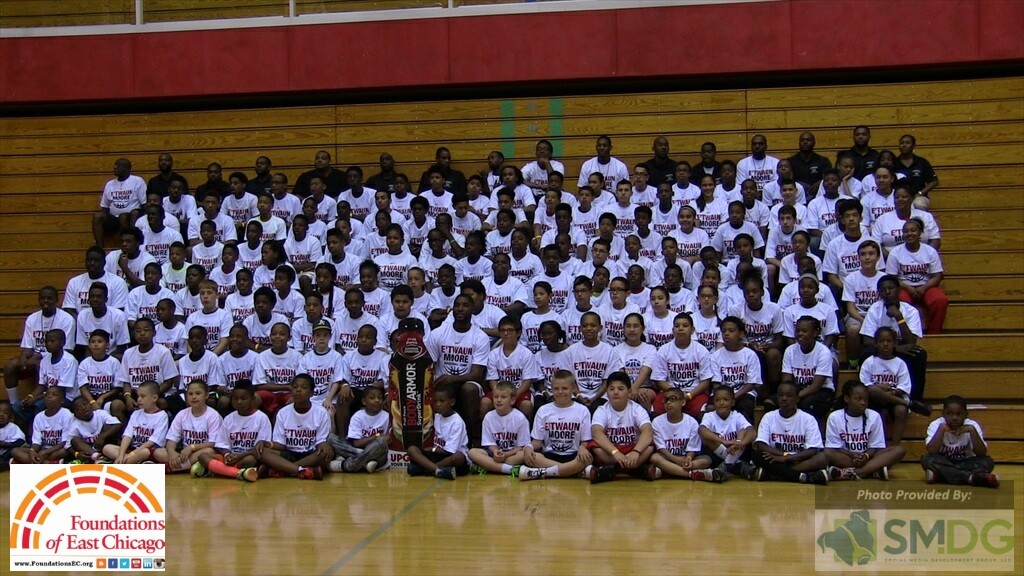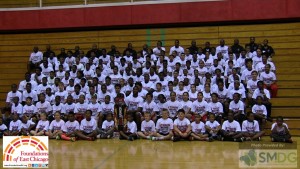 Although basketball season is over, the season for summer sports camps is just getting underway. Young East Chicago athletes started their breaks from school with a bang at the E'Twaun Moore Basketball Camp held at East Chicago Central High School.
The camp, which has been running in East Chicago, Ind. for four years, was held on June 26 and 27 for kids entering grades four through nine. It is held annually by the E'Twaun D. Moore Foundation, Inc. which was founded by Chicago Bulls star and East Chicago native E'Twaun Moore.
"It feels great to be back in East Chicago, especially anytime I've got something positive going on," said Moore.
The camp ran from 10:30am to 3:00pm on both days. In the morning, the athletes participated in warm-ups, agility training, ball handling drills and defensive exercises. After a 12:00pm break for lunch, the campers returned to the court to work on group drills, team practices and five-on-five gameplay. Each day concluded with a discussion led by Moore on the skills practiced at camp as well as life lessons that can be learned from playing basketball.
"I believe it was the agilities, when we had to do 'shotgun feet'," said 13-year-old camper Kelly Williams of East Chicago. "I like that because it teaches me how to be faster on defense."
The goal of the foundation is to use the camp to drive home the values of "education, self, community and respect for authority" to young people in East Chicago and the surrounding area.
"Seeing the kids learn and have fun is something we start to look forward to every year," said Camp Director Ezell Moore."
Each year that the camp has been running, it has drawn between 100 and 200 young athletes from all over the Midwest. Although kids come from far away to participate, the impact that the camp has had in its home city of East Chicago and the people who live there is undeniable.
Moore would like to be an example for the campers and show them that hard work and dedication can get them anywhere they want to go.
"Don't let where you are from deter you and keep you from living your dreams," he advised all East Chicago residents. "Always push forward and stay positive and you can do whatever you want to."
For more information on the E'Twaun Moore Basketball Camp, visit www.etwaunmoorebasketball.com.