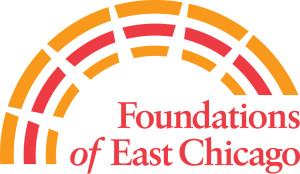 The Story of our inception
Shortly after gaming was approved by the Indiana State Legislature, citizens and businesses assessed the impact of gambling on their community. The citizens of East Chicago determined that private foundations, void of politicians, should receive local riverboat revenue which would be managed by citizens for the benefit of citizens.
In 1997, East Chicago Community Development Foundation and the Twin City Education Foundation, now commonly known as the Foundations of East Chicago, worked to address years of deep economic hardship, blight and decline of our community. We understood that if East Chicago was going to survive another generation, it desperately needed the kind of healing made possible by discerning, strategic and systematic investment. In 17 years, we have quietly and diligently evolved into a significant force for social and individual growth, helping to advance local nonprofits and stabilizing our beloved city. During our Foundation's history, we have funded more than 2,000 programs and 200 organizations, and touched the life of virtually every East Chicagoan in significant, tangible ways. With highest aspirations for the future of East Chicago, we fund and work with local nonprofit agencies, churches, and local government to build a capacity of strength in order to grow and thrive and endure economic uncertainly and upheavals.
Our Mission:
Our Mission is to strengthen and improve the quality of life in East Chicago through strategic grant making, providing leadership, and serving as a community resource.
The Foundations of East Chicago are committed to improving the lives of every resident of our city.
Conceived by the citizens of East Chicago to be independent, citizen-run, private foundations, we derive funding from East Chicago's local casino, and use this money to support local churches, schools, and nonprofit organizations who know the community best and put the money in action where it can do the most good.
We believe that no single person or organization has all the answers. As a result, We are committed to work together with other agencies and groups to find the best solutions to our problems. Alone, our limited financial resources cannot solve community concerns.
The Foundations of East Chicago continues to play a leadership role in improving local educational opportunities by assisting organizations develop strategies. Community collaborations offer one solution to building capacity to help improve the lives of children and families. The Foundations of East Chicago is, in effect, "teaching them to fish" thereby empowering organizations to build sustainability by seeking multiple, sustainable funding streams. By working collaboratively, the organizations and agencies involved bring their knowledge and experience together on behalf of our process, which serves the best interests of youth and families in East Chicago.
To learn more about our collaborative approach, check out our strategic plan. To learn more about our partners and grantees and receive future updates, visit our website, find us on Facebook, and follow us on Twitter.