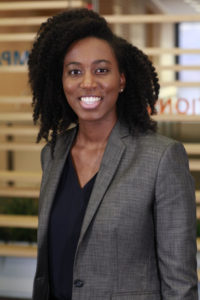 As students approach their high school graduation, they are faced with a tough decision—where do I go from here? For one student, Arielle Anderson who graduated in 2013, she knew what her goals were. Arielle was going to get her college degree and make a difference in the world. Arielle received a $6,000 four year renewable scholarship from the Foundations of East Chicago (FEC) that she used at Indiana University. Arielle said she applied for the FEC scholarship because she knew that her family would need assistance to afford her college education as her brother was also pursuing his degree at IU.
Arielle had a well-rounded college experience and made sure to seize all the opportunities available to her. "My experience at Indiana University helped me to develop and grow personally and professionally. During my time at IU, I dove deep into my passion for community service and social impact through participating in and leading service trips throughout the United States; I went out of the country for the first time and several more times through trips to Switzerland, France, and the Baltic States (Lithuania, Latvia, and Estonia); and I challenged myself academically through combining my interests for business and anti-trafficking efforts in my honors capstone thesis. Through my academics and the strong relationships, I built with the business school faculty and my peers, I felt prepared for my future career when I left IU."
The FEC scholarship enabled Arielle to graduate with no student debt and gave her the freedom to not have the financial burden that most students carry. "After college, I began my career as a management consultant at PricewaterhouseCoopers (PwC) in Minneapolis, MN, after completing three summer internships with PwC in Chicago and Atlanta. In this role, I served as an associate and project management support on projects with clients, such as health systems, hospitals, health insurance companies, and nursing schools. I currently work at UnitedHealthcare as a Program Manager in the Social Responsibility office. I am responsible for managing our multi-million-dollar grant portfolio focused on increasing access to health for underserved and uninsured communities throughout the United States. I am also responsible for our impact measurement work, which enables us to understand and communicate the value of the work done by our grant partners."
Arielle is the epitome of what we hope a FEC scholarship will do for our students. She is doing amazing things with her life and she is using her education to better the life of others. Great work, Arielle!