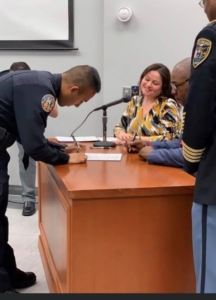 When the Foundations of East Chicago (FEC) awards a scholarship to an East Chicago graduating senior, it is our hope that the student goes on and receives a degree which will enable them to have a successful career. We love to hear all the great success stories of our scholarship recipients, especially those who come back to East Chicago to make a difference, bringing it back full circle. Seraj Qureshi, an East Chicago native and FEC scholarship recipient is doing just that! He has chosen to give back to his community by choosing a career in law enforcement and becoming an East Chicago Police Officer.
Seraj graduated from Bishop Noll Institute in 2014 and received a 4-year renewable scholarship to attend Purdue University Northwest. He majored in Business and was able to graduate in less than four years with his degree. Seraj says he had an amazing experience at Purdue and believes it was a great environment to learn and meet industry professionals. He credits FEC with helping him reduce out-of-pocket costs for college which alleviated financial burden for him and his family.
His message to the students of East Chicago is: "Apply! Apply to as many scholarships as you can. Make sure your essays are thoughtful and detailed. You never know, you may graduate quicker than expected, with the more scholarships you apply for." Seraj makes a great point of emphasizing the importance of scholarships because not having sufficient funds to cover a fulltime schedule will prolong graduation.
Seraj thanks FEC for providing him with the opportunity to further his education and financially assist him throughout his four years. He says he is extremely grateful to have been selected to receive a FEC scholarship. The Foundations is extremely proud of Seraj and is grateful for the service he provides the community of East Chicago as a police officer. Congratulations Seraj on your success!