Foundations of East Chicago (FEC) knows that obtaining a degree is not cheap and for many families in our East Chicago community, the tuition cost makes it almost impossible! A college education is now the second-largest expense an individual is likely to make in a lifetime — right after purchasing a home. Declining public funds have caused college tuition to skyrocket, leaving many families either with insurmountable student loan debt or unable to afford a higher education altogether, according to a new analysis by the Center on Bud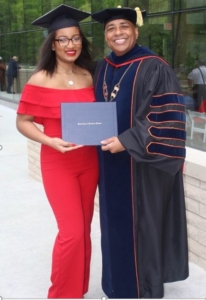 get and Policy Priorities.
For over twenty years, FEC has made it a priority to assist East Chicago students achieve their dream of receiving a higher education. The scholarship awarded provides funds that the student might not otherwise have had or would have had to take out a loan. Ayamba Eka, a East Chicago Central High School graduate, thanks FEC for doing just that. Eka received a scholarship in 2015 and applied it towards her Business Administration degree received from University of Southern Indiana.
Eka tells us that she had a great college experience and is very appreciative for the help that FEC provided. "My college experience was great. I didn't get to stay in the dorms my freshman year because they were all full, so I got pushed to the on-campus apartments where I met my now best friend. I met a lot of people throughout the years who have been great people to hang out with. Overall, I had a great time at USI and I'm proud that I attended and recently graduated. The FEC scholarship made me worry less on how I was going to pay for school and made it easier to focus on school work."
One thing that she would like to stress to East Chicago students is to APPLY for the scholarship! "It will help them worry less about how they are going to pay for school and give them a chance to focus their worries on other things like school work." The FEC scholarship is currently open and will close on February 21, 2020. We encourage all students who qualify to apply! Visit our website for more information: https://foundationsec.org/scholarships/