When Foundations of East Chicago (FEC) awards grants it ensures that the organization receiving the funds will make a direct impact to the East Chicago community. This year, during the Program Grant round, FEC awarded a grant to an organization called United Charitable – Athletes for Charity.
Athletes for Charity is a nonprofit organization whose mission is to serve as a charitable initiative dedicated towards encouraging the giving of time, financial resources, and information to improve the collective lives of disadvantaged youth, advance the common good and support the nonprofit sectors that benefit underprivileged youth.
Athletes for Charity achieves its mission by teaming up with professional athletes, sports leagues and teams, various sports professionals, foster care agencies and related organizations, the corporate sector, as well as volunteers and mentors, to empower and support the development of disadvantaged youth. Athletes for Charity's work range from the development and coordination of youth mentoring programs; youth literacy initiatives; STEM education programs; assisting with the establishment of athlete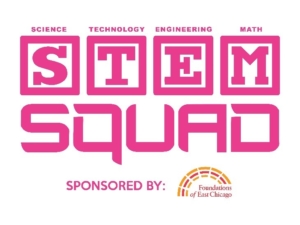 foundations and charitable projects; the planning and implementation of camps and clinics for youth that encompass an educational component; holiday toy drives for underprivileged children; coordination of athlete appearances; and planning special events.
Throughout 2019, Athletes for Charity has done a lot of programming inside the schools, library, and more! They have implemented two STEM Programs for youth in East Chicago: a STEM + Literacy Program for grades K – 5 at Lincoln elementary school and a Girls + STEM Squad which is a STEM + Mentoring Program including a mix of middle and high school students, held at the EC Public Library. Both programs incorporate life skills training, literacy development, field trips and hands-on engagement activities to enhance student interest in STEM (Science, Technology, Engineering & Math).
Check out all of the programming this wonderful organization has been able to do and will do with the help of FEC dollars!
2019:
Saturday, August 24, 2019 Youth & Family Engagement @ EC Library
Tuesday, September 17, 2019 STEM + Literacy @ Lincoln (ENGINEERING)
Friday, September 27, 2019 STEM + Literacy @ Lincoln (ENGINEERING)
Saturday, September 28, 2019 Youth & Family Engagement / Girls + STEM Squad @ ECPL
Tuesday, October 15, 2019 STEM + Literacy @ Lincoln (SCIENCE)
Wednesday, October 16, 2019 Blueman Group Chicago – 160 EC Students/Families & SCEC Staff
Saturday, October 26, 2019 Youth & Family Engagement / Girls + STEM Squad @ ECPL
Tuesday, November 12, 2019 STEM + Literacy @ Lincoln (HUMAN BODY)
Friday, November 22, 2019 STEM + Literacy @ Lincoln – FIELD TRIP to MSI (Chicago)
Saturday, November 23, 2019 Youth & Family Engagement / Girls + STEM Squad @ ECPL
Tuesday, December 10, 2019 STEM + Literacy @ Lincoln (CODING)
Thursday, December 19, 2019 STEM + Literacy @ Lincoln (CODING)
Saturday, December 21, 2019 Youth & Family Engagement / Girls + STEM Squad @ ECPL
2020:
Friday, January 24, 2020 STEM + Literacy @ Lincoln (DINOSAURS)
Saturday, January 25, 2020 Girls + STEM Squad @ ECPL
Black History Month Celebration
Friday, February 21, 2020 STEM + Literacy @ Lincoln (ROBOTS)
Saturday, February 22, 2020 Girls + STEM Squad @ ECPL
Women's History Month Celebration
Monday, March 2, 2020 The Cordero Kids – Dr. Seuss Day Celebration & Book Distribution
Friday, March 27, 2020 STEM + Literacy @ Lincoln (FOREST)
Saturday, March 28, 2020 Girls + STEM Squad @ ECPL
Friday, April 17, 2020 STEM + Literacy @ Lincoln (SOLAR SYSTEM/SPACE)
Saturday, April 25, 2020 Girls + STEM Squad @ ECPL
Friday, May 29, 2020 STEM + Literacy @ Lincoln – STEM ZONE
Saturday, May 30, 2020 Girls + STEM Squad @ ECPL