Foundations of East Chicago (FEC) is always eager to collaborate with local organizations if it means the citizens of East Chicago will benefit, especially the high school students. That is why when Ivy Tech approached FEC about a program called I Have Promise!, a collaboration between Ivy Tech, St. Catherine Hospital, and East Chicago Central High School, FEC did not hesitate to be a part of this great opportunity.
The I Have Promise Project believes in the promise of every student in East Chicago. "We believe East Chicago students have the potential to become tomorrow's leaders. These bright young men and women are our future senators, doctors, entrepreneurs, steelworkers and much more. To reach their potential, they must be able to envision a brighter future and be able to overcome the hurdles they face today." I Have Promise Project is a pilot initiative supported by a cross-sector collaboration of Ivy Tech Community College, School City of East Chicago, Foundations of East Chicago and St. Catherine'sHospital, as well as Angie Williams, President of Spark Consulting Group, assisting in guiding the pilot program. The pilot is focused on achieving the following objectives: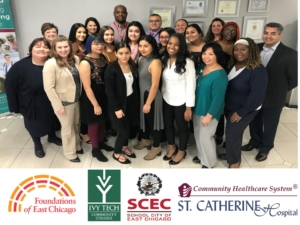 Students explore career pathways in the health care industry.
Students select a career path and develop a plan of action to pursue that path.
Students are academically, financially, and mentally prepared to transition to college or technical training.
Students will obtain gainful employment upon the completion of a college degree or technical training.
The program officially launched in January 2019 with 12 students from East Chicago Central High School. Between now and August 2019, these 12 students will:
Be paired with a St. Catherine's employee mentor and engage in group and one to one mentoring activities.
Work alongside their assigned mentors and participate in leadership training workshops.
Participate in activities to expand their knowledge of both clinical and administration career pathways within the healthcare field.
Learn essential life and soft skills to ensure they are workforce ready.
Attend a general education course at Ivy Tech Lake County Campus – East Chicago over the summer.
Receive supports and services to address any barriers within their home life that pose a risk to their education.
The goal of this program is to help students bridge their studies with their future employment. Often time students go to school without the knowledge of what future employees are looking for. The I Have Promise! program will work on the desirable soft skills that employees want as well as help the student develop career and college readiness plans. It is the long-term hope of the program that students obtain employment within their desired field upon completion of their college career or technical training.
FEC is proud to contribute to programs such as these that provide students with the resources needed to succeed in their future endeavors!