Providing scholarships is a big part of the Foundations of East Chicago's (FEC) mission. FEC understands that a lot of the students in the community need assistance paying for college. However, more importantly, they also understand that besides funding a college education, encouragement and support is what these students generally need. Oftentimes, students don't consider higher education as an option because of the many obstacles that stand in the way between them and a degree. FEC has made it a goal to change that.
When E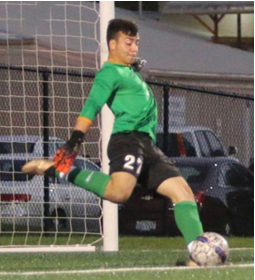 dwin Rosado was younger, he never considered college. "Younger me didn't care about college or did not think it was important," he said. "Now looking back at it, it was the worst thing possible to think because college is the most important education you could receive."
Edwin is now attending Indiana Institute of Technology (Indiana Tech) studying Sports Management. He is also on the varsity soccer team. His freshman year he was named Newcomer of the Year. Now as a sophomore, he was named 2nd team All-Conference, lead the WHAC in goals against average and was named back to back defensive player of the week.
With the Foundations of East Chicago (FEC) scholarship, Edwin's plans were made possible and he is able to reach the goals that at one time he did not think were feasible.
"My plan is to have as high of a GPA as possible, while playing sports, working on campus, and to be the best student I can possibly be before an athlete."
FEC is very proud to be able to assist students like Edwin, who at one point in their lives did not believe college was in their future. FEC believes in East Chicago students and wants to see them succeed!