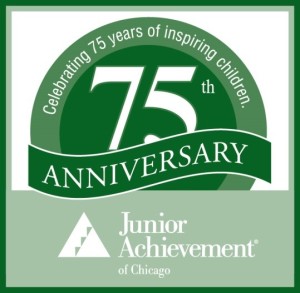 Junior Achievement is an educational nonprofit bringing work readiness, financial literacy and entrepreneurial programs to the classroom, from kindergarten through high school.
In partnership with Fifth Third Bank and the School City of East Chicago, it is the largest organization in the world dedicated to educating students about workforce readiness, entrepreneurship and financial literacy through experiential, hands-on programs.
Learn about JA's Blended Learning Transformation
Junior Achievement is incorporating a blended learning approach into its programs, creating a scalable, relevant, and responsive student experience. By blending our current face-to-face approach with digital opportunities to access JA content, we can reach more students in more relevant ways that better accommodate students' diverse learning styles and provide them with 21st century skills that will equip them to be successful in the global marketplace. Learn more   here.
"Over the past five years alone, the support of the Foundations of East Chicago has allowed us to reach over 5,300 students in the East Chicago School System with our programs. That is an amazing impact, and we could not have sustained such a large outreach without their help," program leader Katie Hobgood said.
Junior Achievement Sparks Student Success
JA impacted over 4.5 million U.S. students in more than 197,000 classrooms during 2013-2014.
Our volunteer-delivered, kindergarten-12th grade programs foster work-readiness, entrepreneurship and financial literacy skills, and use experiential learning to inspire students to dream big and reach their potential. With the help of more than 213,000 volunteers, JA students develop the skills they need to experience the realities and opportunities of work and entrepreneurship in the 21st century global marketplace.
J.A. – Northwest Indiana Spotlight
Last year, the Eastern Division (Northwestern Indiana) reached 1,391 classrooms and 32,108 students and for 2015, J.A. has a goal of reaching 1,580 classrooms and 36,799 students. J.A. has been able to continually expand the program every year thanks largely in part to generous corporate partners who support Junior Achievement of Chicago – Northwestern Indiana.
To learn more about scholarship opportunities, check out our website, find us on Facebook, and follow us on Twitter.