The Foundations of East Chicago (FEC) has long held the mission of helping organizations that benefit the people of East Chicago. However, it is an unparalleled time in East Chicago's history. The lead crisis has caused many residents to have to flee their homes. Not only do the excessive amounts of lead in the water and soil provide health risks to East Chicagoans, but the situation has put many in a financial bind, as well.
The Salvation Army East Chicago Corps and Community Center petitioned local grant-writing organizations for an award in the amount of $34,763 to finance a walk-in refrigerator and freezer to be used for their food service programs. These programs offer free groceries and meals to community members in need every day through Community Lunches and the Food Pantry.
"Foods such as meat, milk and fruits and vegetables combat lead absorption, so increasing our ability to offer such items would be of great benefit to those affected by this crisis," said a representative from the Salvation Army East Chicago Corps.
The Salvation Army also stated that they currently offer limited amounts of perishable goods on a first come, first serve basis and often run out before everyone in need is fed. The new 20' x 10' walk-in cooler would help ensure more people are taken care of.
"This would enable us to receive larger donations of fresh foods, which we often have to turn away due to lack of space," wrote a representative from the Salvation Army.
The Legacy Foundation, a grant-writing organization that serves Lake County, responded to the Salvation Army with a unique proposal. Legacy offered to grant half of what was needed to purchase and install the new freezer if another organization would match their amount to get the project fully funded. FEC agreed to help.
To learn more about how FEC is helping members of the community, visit www.FoundationsEC.org.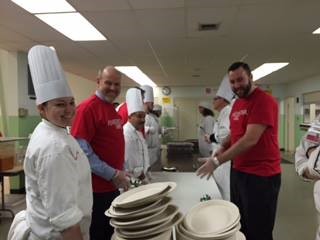 Photo taken from The Salvation Army East Chicago Corps Facebook page