Foundations of East Chicago have collaborated with many local organizations over the years in an effort to promote good works in the East Chicago area. One of its notable grantees is the Salvation Army, East Chicago Corps. With funding from Foundations of East Chicago, has organized a particularly successful youth music program.
The School of Music at Salvation Army has been in existence since 2010. Since that time it has grown from having one, small class to having five, large classes each week. The students have the opportunity to learn music theory, the trumpet, the piano, the guitar and chorus.
This program not only gives students the chance to try new things but also keeps them in a safe, controlled environment on several weekday evenings.
Students at the School of Music are given many additional opportunities. They perform their talents at worship services every Sunday and also put on several concerts and events throughout the year. Some students even participate in music competitions for various scholarship prizes.
One student who has learned to play a variety of instruments through the program is David Paredes.
David was a member of the very first music class offered by the Salvation Army. It was in this class that he learned to play the trumpet. In subsequent years, he mastered the drums, piano and guitar. He also enjoyed singing for the Singing Company.
The instructors at the School of Music believe that the program has been good for David. They said they have seen him become more disciplined and self-motivated as time has gone by. The instructors have also observed him taking on more of a leadership role within the program.
David agrees that the School of Music has made him a better person and he has expressed his appreciation for being able to be involved in something so great.
The Salvation Army School of Music helps many kids like David find themselves through the discipline of music and has given them the opportunity to take a path they had never before considered.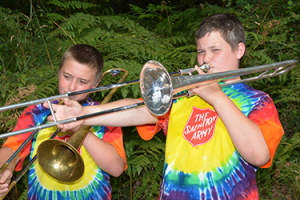 Image Source: salvationarmynw.org