The Foundations of East Chicago (FEC) proudly announced $595,123 in grant awards to 25 nonprofit organizations for 2017.
Out of 36 applications requesting nearly one million dollars in funding, FEC awarded funds to 25 nonprofits that most closely exemplified the FEC pillars to receive a combined amount of $595,123. FEC's pillars of focus include education/job training, community enrichment and health and safety.
This was a competitive process and the 2017 grant awards reflect the vision and message FEC focused on enriching the lives of East Chicago residents. Grant awards ranged anywhere between $8,000 – 35,000.
Great accomplishments have resulted from the financial support FEC has received from East Chicago's Ameristar Hotel and Casino, allowing FEC to invest into other nonprofit organizations working to improve East Chicago.
The Foundations has been awarding program grants since its inception in 1998 and, each year, they strive to help more and more organizations that benefit the people of East Chicago in unique ways. One organization that has received funding from FEC is the St. Joseph's Carmelite Home, located in East Chicago. The Carmelite Home is known for being one of the best residential child care facilities in Lake County for children in crisis.
Each year, the Carmelite Home works to help more children. In the past, they have implemented programs specific to newborns, pregnant teens and children experiencing psychological trauma. This year, the Carmelite Home received FEC funding for a program that will allow them to have the proper materials and training to open up their doors to help more children.
Another organization that FEC has regularly worked with is Grace Beyond Borders, which does outreach rehabilitation and placement for homeless individuals in the city of East Chicago. FEC funds have helped Grace Beyond Borders to connect homeless individuals in need of drug, career or independent living counseling to those that can provide assistance. Grace Beyond Borders also gives food, clothing, shelter and transportation to those in need of more immediate help.
All FEC-funded programs work to serve the members of the East Chicago community in some way. For a full list of the 2017 grantee organizations and their programs, visit www.FoundationsEC.org.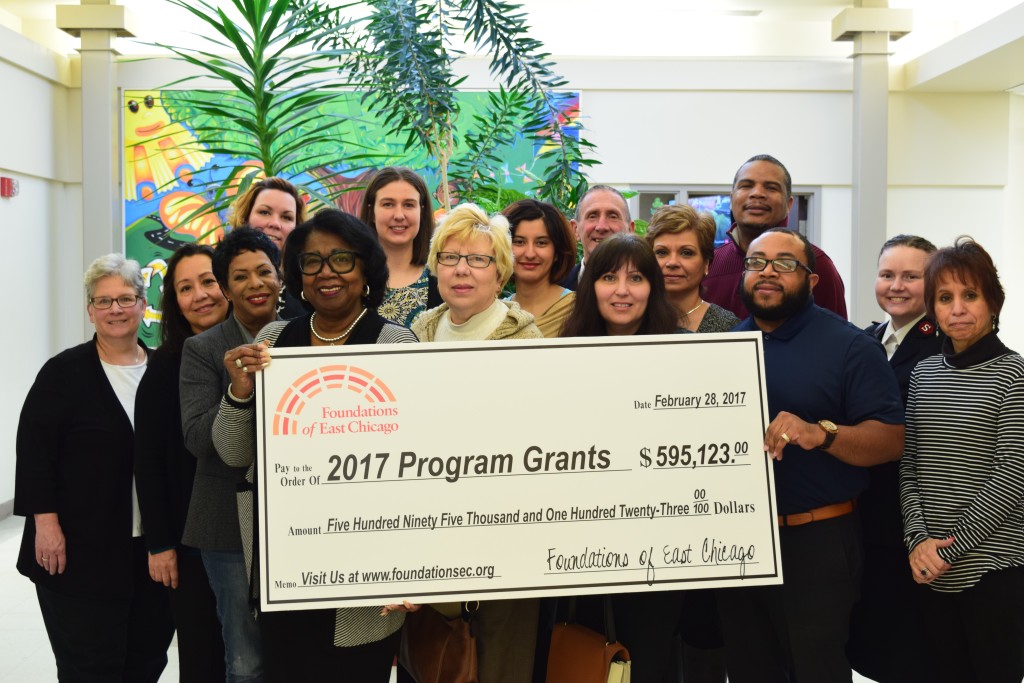 Foundations of East Chicago Grant awardees pose with check to be distributed to 25 grantee organizations for the 2017 grant cycle.